The Donut Dollies
The untold story of the American women who volunteered to go to Vietnam on an impossible mission: help the troops forget about the war.
Our 2014 Kickstarter campaign successfully reached its goal, which allowed us to film the return of two Donut Dollies to Vietnam for the first time in 46 years – thanks to all who donated! If you'd like to make a tax deductible donation to help us finish this documentary through our post production phase, please go to the How you can help page
This is the story of a group of amazing American women who volunteered to serve during the Vietnam War through the Red Cross as part of a program called Supplemental Recreation Activities Overseas (SRAO), better known by our brave military men as "The Donut Dollies."  Armed with nothing but cookies and home-made entertainment programs, the Donut Dollies risked their lives every day as they tried to fulfill their mission and cheer up the US troops. Despite their service and sacrifice, their stories and contributions in Vietnam have gone largely unnoticed and unappreciated.  We're hoping this project will change that.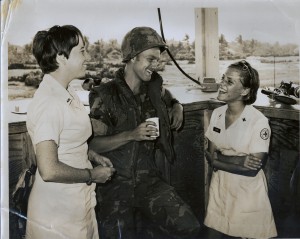 "Donut Dollies is a little-known story about the Vietnam War that deserves to be told and Norm Anderson seems the perfect filmmaker to tell it. Not only does he have a personal connection to the subject, but he has the filmmaking skills to vividly portray the complexity of these women's experiences in a tragic war that many Americans would still like to forget we fought." – Mark Jonathan Harris, three-time Academy Award-Winning Filmmaker and Documentarian
Thanks to 148 generous donors, we've successfully completed a Kickstarter fundraising campaign that will allow us to complete principal photography, and document two Donut Dollies' first trip back to Vietnam since completing their tour of duty in 1968-69.
As we retrace their steps, we'll explore why they decided to go to Vietnam in the first place, and try to find and reconnect with the soldiers, fellow Donut Dollies and Vietnamese they met there.
This project is truly a labor of love, as one of the Donut Dollies – Dorset – happens to be director, Norm Anderson's Mom and the other is her best friend, "Auntie Mary."
We've been privileged to hear many of their stories firsthand and Norm's Mom has even shared with us the journals she kept in Vietnam. The more we learn, the more we realize we have to help share those stories and preserve them.
If you missed making a donation during our fundraising campaign, you can still help us out! Please contact us to learn how you can help make this documentary a reality by contacting us at: info@donutdollies.com
If you are a Veteran, Donut Dollie, family member or friend and have memories, photos, film or memorabilia related to the Donut Dollies that you'd like to share, we'd love to hear from you as well. You can send them to: memories@donutdollies.com
Please help us preserve and share the stories of The Donut Dollies, and come along for an amazing ride. We promise you'll laugh, cry and learn a lot in the process. And, you'll get to know some amazing women. Thank you!
Norm Anderson & Jess Hill