The Donut Dollies Documentary has been chosen as an Official Selection at 15 film festivals around the country!  At this moment, 6 film festival events are scheduled from August 23rd – October 22nd, while the other 9 events are currently on hold until a scheduled date can be safely set.  During this time of social distancing, the upcoming events will be taking place mostly online, with one Drive-in theater screening to be announced shortly.
In the coming weeks, we will be posting information on upcoming film festival screenings, including dates and times, and ticketing links that will provide you with online access.  What may occur with some of these screenings, is that they will only be available online to people in the state or region the film festival is located.  If we learn that a screening will be restricted to a certain area, we'll make every attempt to inform you through our posts on www.donutdollies.com and www.facebook.com/thedonutdollies
One thing we would like you to know about these upcoming film festival screenings are that most of these events are put on by not-for-profit groups and run by small dedicated staffs and film-loving volunteers.  Each festival was counting on in-person audience attendance to help them generate the funds to put on the following year's events, but that has since changed.  Some of these festivals will have set ticket pricing, while others will have "pay what you can" options.  If you come across the latter and are able to help them through this tough time, everyone involved will definitely appreciate your support.     
We look forward for you to see the Donut Dollies Documentary in-person in a darkened theater soon, and possibly with some Donut Dollies to take part in a Q&A session. Until then, we thank you all for your continued support!
Sincerely,
Norm, Jess and Jim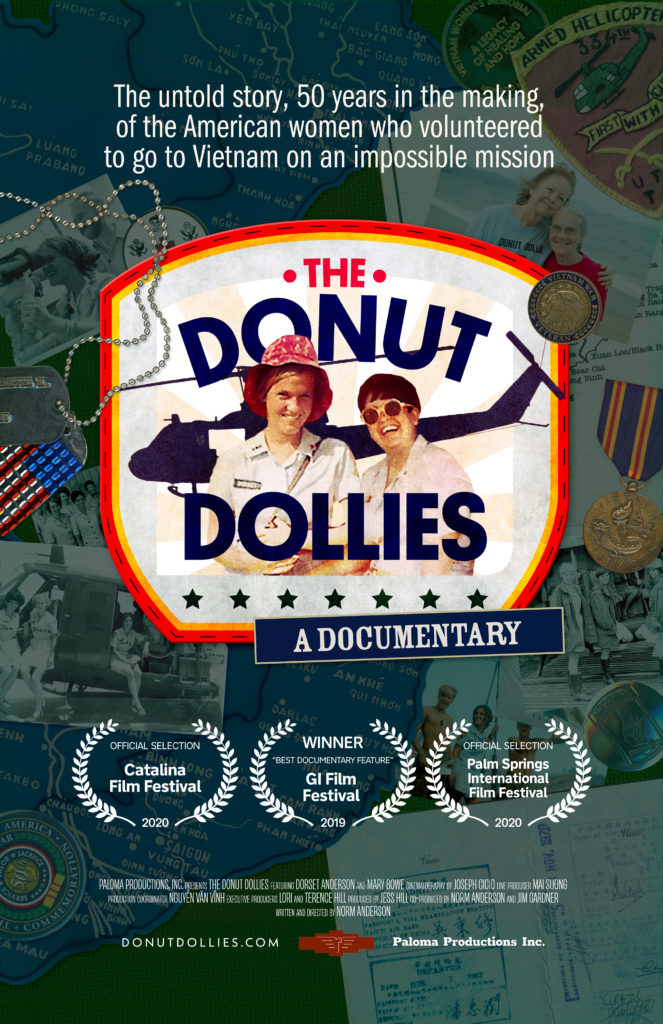 American Legion, American Legion Auxiliary, VFW Auxiliary, Veterans of Foreign Wars, Veterans of Foreign Wars Auxiliary, AMERICAN RED CROSS OVERSEAS ASSOCIATION, ARCOA, , Donut Dollie Detail, BERKSHIRE, BERKSHIRE COUNTY, Cu Chi, CUMMINGTON, Documentary, Donut Dollie, Donut Dollies, DONUT DOLLY, HAMPSHIRE COUNTY, HELICOPTER, Huey, memories, Nha Trang, Pleiku, RED CROSS, Schertz, SRAO, Supplemental Recreation Activities Overseas, Tuy Hoa, veterans, Vets, VFW, vietnam, Vietnam Vet, Vietnam Veteran, Vietnam Veterans Memorial, Vietnam War, VVMF, donutdollys.com, donutdollies.com, thedonutdollies.com, air base, Chu Lai, Phan Rang, An Khe, Dong Ba Thin, Cam Ranh, Bien Hoa, Korea, Korean War, Phu Loi, Long Binh, Quang Tri, Phu Bai, Quy Nhon, Lai Khe, Camp Eagle, Camp Enari, Xuan Loc, Dong Tam, Dian, Di An, Binh Thuy, Da Nang, Danang, Saigon, Ho Chi Minh City, GI Film Festival, Palm Springs International Film Festival, Phoenix Film Festival, Tiburon International Film Festival, Ancient Way Film Festival, Grand Teton Film Festival, Julien Dubuque International Film Festival, Berkshire International Film Festival