Celebrating Christmas in a war zone may not sound like something that would happen, but here we highlight some of the memories of the Red Cross Donut Dollies who served in Korea and Vietnam.
Barbara McDaniel Stephens – Vietnam 1969-70
Christmas Day was spent on the "Santabous" (Caribou airplanes with a Santa face painted on their nose) delivering decorated trees, eggnog, Christmas cookies, ditty bags and more to far flung units in III Corp.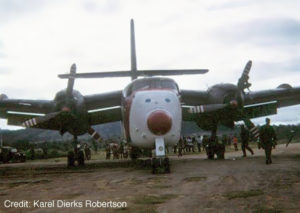 Diane Love Crocker – Vietnam 1966-67
Another fond memory is Christmas with a small unit – a beautiful church service and then we served Christmas dinner to the men. Although we missed the Bob Hope show in An Khe, our Christmas was so meaningful.
Judy Harper – Vietnam 1970-71
While on TDY (temporary duty) to Quang Tri over Christmas 1970, we attended the Bob Hope show at Camp Eagle. More memorably though, was meeting Admiral McCain (even gave him a ditty bag – didn't know who he was until later). Apparently he visited the DMZ (demilitarized zone) every Christmas, while his son, John, was a POW in North Vietnam. A somber time for him.
Lou Breen Rundle – Vietnam 1971-72
I will never forget our "Santabou" Christmas of 1971 where three tactical airlift squadrons from CRAB (Cam Ranh Air Base) painted their planes like Santa complete with a red nose and hat. They'd had raffles to raise money for fruit, candy, pretzels, alcohol, etc. and invited us to fly with them to bases and hand out the free goodies to servicemen who had not had things like this for many months. Our plane's bartender, Joe, was even dressed like Superman! It was one of the best Christmases ever – all giving, sharing, and good will.
Margo Smith Timberlake – Vietnam 1971-72
Christmas in the bush around Chu Lai… there was a cease fire that day, so we were choppered right out to areas we never would have gone to any other time. I think we went to 3 different places. These guys were not even able to get back to a firebase for Christmas, so we took Christmas to them. We put pretty pitiful homemade paper decorations on whatever "Charlie Brown" tree we could find, sang carols and visited. I had on a Santa top and the guys would come sit on my lap, whisper their Christmas wishes and get a Red Cross goodie bag.
Nancy Calcese – Korea 1969-70 and Vietnam 1971-72
My time in Korea was a very happy time with many fond memories, like Christmas Eve on the DMZ (demilitarized zone).
Nancy Caracciolo Warner – Vietnam 1969-70
I remember the Dust Off crew who, on their own time, took two of us out to many of the firebases and outposts outside of An Khe on Christmas Day. We dressed as Santas and they flew us… with red and green smoke trailing, to see the guys. It was the best Christmas ever!
Paula Wright Haley – Vietnam 1968-69
My very favorite memory was Christmas Day 1968. We boarded a helicopter very early that morning and we flew to every area possible giving the soldiers bags of goodies, which were donated by the American people. It made me feel good that the people back home cared enough to make sure the soldiers were remembered and how happy the soldiers were to see us and to know the people back home cared. I don't ever remember being that tired in my life, but even today it can bring a tear to my eyes to think back on that day. The song which was played over and over again was "I'll be Home for Christmas".
René Johnson – Vietnam 1969-70
Christmas week of 1969, caroling with a mixed group of military men, nurses, Special Services women and us Donut Dollies, followed by two days of doing a little play, the whole unit flying in one helicopter to many firebases and being given our own private outhouse on Nui Ba Den as our Christmas present.
Sharon VanderVen Cummings – Vietnam 1966-67
On Christmas day, all the girls in our unit went out to different units in the field. While there, we had Christmas dinner with the guys – when I say "the guys," I do not mean the officers. We almost always worked with the enlisted men (boys). I was out at a forward location, so we ate in mess tents that had been set up. Later, several helicopters took us to Cu Chi where we got to see the Bob Hope show. It was quite a day!