The Donut Dollies
The untold story of the American women who volunteered to go to Vietnam on an impossible mission: help the troops forget about the war.
Dear friends,
Our feature-length documentary on the amazing Donut Dollies is locked and almost ready to go. We just have to finalize music and other licensing matters, and then we can start sharing it with the world.
Please sign up for our mailing list for updates about when and where the film and dvd will be available. [see "Email Sign Up" on this page]
In the meantime, we'd like to give you a sneak peak of the film via our new trailer and share a great article about the project, written by Dennis McCarthy in the Los Angeles Daily News: Decades after Vietnam, the Donut Dollies get their due
Thank you!
Norm Anderson & Jess Hill
p.s. If you'd like to make a tax deductible donation to help us finish this documentary through our post production phase, please go to the How you can help page
---
More about the project:
This is the story of a group of amazing American women who volunteered to serve during the Vietnam War through the Red Cross as part of a program called Supplemental Recreation Activities Overseas (SRAO), better known by our brave military men as "The Donut Dollies."  Armed with nothing but cookies and home-made entertainment programs, the Donut Dollies risked their lives every day as they tried to fulfill their mission and cheer up the US troops. Despite their service and sacrifice, their stories and contributions in Vietnam have gone largely unnoticed and unappreciated.  We're hoping this project will change that.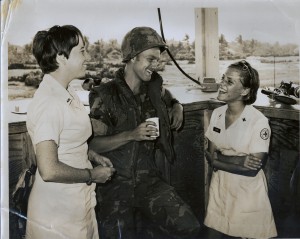 "Donut Dollies is a little-known story about the Vietnam War that deserves to be told and Norm Anderson seems the perfect filmmaker to tell it. Not only does he have a personal connection to the subject, but he has the filmmaking skills to vividly portray the complexity of these women's experiences in a tragic war that many Americans would still like to forget we fought." – Mark Jonathan Harris, three-time Academy Award-Winning Filmmaker and Documentarian