HOME
WE'RE EXCITED TO ANNOUNCE "THE DONUT DOLLIES" IS NOW AVAILABLE!
Get your digital copy by clicking on the viewer above. 
For DVDs and screening opportunities, email us at info@donutdollies.com
Digital & DVD copies both include our award-winning documentary plus 35-minutes of featurettes and a 14-minute photo album of the women who served in Korea and Vietnam.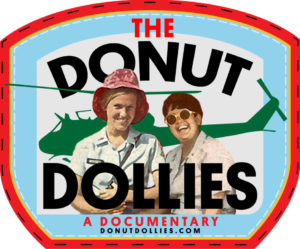 This is a little known story of the small group of American women who volunteered to serve in the Vietnam War through the Red Cross Supplemental Recreation Activities Overseas (SRAO) program. They were better known by our brave military men as "The Donut Dollies" (a nickname from WWII and the Korean War).
Armed only with smiles and hand-made games, the Donut Dollies risked their lives every day to achieve their mission of cheering up and bringing a sense of home to the U.S. troops. We believe these women are an important part of women's history and America's history. Through the release of "The Donut Dollies", we hope to do our part in sharing their story.