In our twenty-first edition of the Donut Dollie Detail, Bobbi tells how seeing friends, classmates and her younger brother going to Vietnam prompted her to go to Vietnam herself, how she had several "close calls", and how she had "stick time" in helicopters and fixed wings.
Please share the Donut Dollie Detail with family, friends and veterans you may know, and make sure to like/follow us on Facebook to learn when the next edition is posted.  You can also share your email address with us at list@donutdollies.com for updates on the upcoming release of the Donut Dollies Documentary (we will not share/sell your email and will only use it for Donut Dollie related updates).
Please meet Red Cross Donut Dollie Barbara McDaniel Stephens…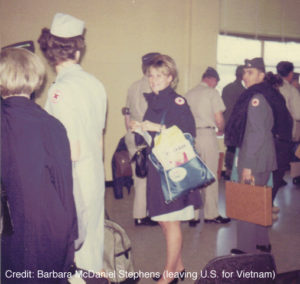 What prompted you to join the SRAO (Supplemental Recreation Activities Overseas) program and want to go to Vietnam?
I had several friends and classmates who were drafted or had decided to join the armed forces and were subsequently assigned to duty in Vietnam. My younger brother was in training to be a helicopter pilot. I got disgusted with the anti-war demonstrations and wanted to show support for those serving there. I learned about the ARC programs in Vietnam through a local Red Cross chapter and applied and was accepted.
When and where were you stationed in Vietnam?  Did you go by a nickname?
I arrived in Saigon on January 21, 1969 for 1 week of training.  My first unit was Bien Hoa from January, 1969 – June,1969; my second unit was Danang from July, 1969 – mid-October,1969; and my last unit was Cam Ranh Army from mid-October, 1969 – February, 1970.  During my time in Vietnam I was known as Bobbi.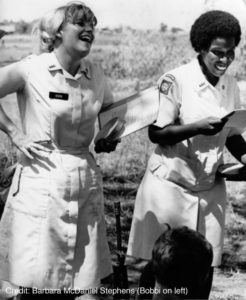 What was a routine day like in Vietnam?
Bien Hoa was a mobile unit only while I was assigned there, so we went out to troops at LZ's, FSB's and any other place we were asked to go. The daily routine was that we were to be at the chopper pad between 7 AM and 8 AM, visit and do programming at 10 to 15 units, return to our base between 5 PM and 7 PM usually, do reports, then work on new programs until bedtime. Danang and Cam Ranh Bay Army had Recreation Centers, so depending on my schedule, the day would either be spent out in the field (like Bien Hoa) or open the center, and spend the day visiting with the troops that came in, playing various card games or table games, pool, Foosball, etc. With center duty, we also made sure refreshments (coffee and Kool-Aid) were always at ready, and everything was in working order and good supply. We also tried to have at least one special activity at the center each week, like pie eating contests, fashion shows, musical jam sessions, etc. Centers were usually open from 9 AM to 9 PM.
Did you ever have any "close calls" either on base or in any vehicles?
Yes, I went through a 3 day ground attack during Tet at Bien Hoa, as well as regular mortar attacks (a piece of shrapnel landed right beside me while working on a program in our living room). Also, I went down in a helicopter twice while at Bien Hoa. In Danang we lived in a villa downtown (not on a military base) and had mortars land in our front yard causing a tall window to come in over my bed in the middle of the night. Also, I had landed at the Rock Pile LZ near the DMZ just as they had incoming and was thrown face down in a mud puddle and covered by a Marine. Cam Ranh Bay Army was the safest place, except during the time they had a race riot among our troops and we were under curfew.
Were you ever injured while in Vietnam?
No, just my pride… LOL
What was it like to visit the soldiers in the hospitals?
The only unit I was assigned to that had evac hospitals was Danang. We also visited the US Navy ship, Sanctuary, moored off of Danang twice while I was there.​ We would visit them occasionally. It all depended on the severity of the injuries in the wards we were asked to visit. The severely wounded that were going to be sent out, we usually wrote reassuring letters to their families for them and it was heart wrenching, or we would read news for them from Stars and Stripes or Time magazine. Those that were waiting to be released to return to the field, we sometimes played cards or other games with them or just chatted with them. We also were invited to go out to local villages with the doctors and nurses when they did care for the local Vietnamese, usually taking care of or distracting the children when they were getting shots or other treatment.
How was the transition returning home to the United States?
Somewhat difficult… the women's lib movement had started while I was gone, which I thought was idiotic, I had learned while in Vietnam how important it was to be protected by our men; the anti-war movement seemed much more ferocious with bombings and more aggressive civil disobedience. I eventually married a veteran I had met in Vietnam, but we rarely discussed our experiences. My brother tells me that I put a cork in my Vietnam memories for years and went on with my life.
What would you like people to remember and understand most about the women who served?
We were all volunteers, exposed to many of the same things our men were, but ignored by the Red Cross and Department of Defense for those that need help with the consequences of that service (PTSD and Agent Orange medical issues).
How do you feel Veterans think of your time having served with them? Have any Veterans expressed their feelings to you directly?
I was "MIA" from the Donut Dollies until I was tracked down by a classmate for the premier of "A Touch of Home" (I think that was in 2007). Since then I have been more involved with the Donut Dollies and subsequently with various veteran groups. I never felt we deserve any special recognition for our service, so I have been overwhelmed by the thank you's received from veteran groups and individuals. At the 20th Anniversary of the Vietnam Veterans Women Memorial, my shoulders actually hurt from all the hugs I got from the guys. Several men that I got to know over there are back in touch with me and we stay in touch through Facebook and e-mails.
What are your fondest or most interesting memories of your time serving in Vietnam?
Well, several of those memories were due to breaking Red Cross rules:
1) I had my baby brother, who was a helicopter pilot, across the street from me for 4 months in Bien Hoa – he had been assigned to the Army unit responsible for us when he came in country a month after I did and we kept it a secret from Saigon as long as we could.
2) I got to experience the non-war side of Vietnam on my days off through a friend that took me to see sights, like the Saigon Zoo, a Pottery plant, several orphanages, Buddhist Temples, French cemeteries, fine French restaurants in Saigon, etc.
3) The "stick time" I got flying helicopters and ​fixed wing (I think they were Caribous) when transportation crews allowed me to fly.
4) Specific runs (3 day trips to Phu Loi and 82nd Airborne Units, Sundays with the artillery unit at Xuan Loc) and special events like the 11th Armored Cav stand down.
5) My 2 R​&​R​'s​:​ Hong Kong (shopping) and Australia (a family reunion with my grandfather's brother's family)
6) Christmas Day spent on the Santabous (Caribou airplanes with a Santa face painted on their nose) delivering decorated trees, eggnog, Christmas cookies, ditty bags and more to far flung units in III Corp.
7) Every unit I served with… what a great bunch of women!
PLEASE NOTE: THERE ARE 20 PREVIOUS EDITIONS OF THE DONUT DOLLIE DETAIL THAT CAN BE SEEN HERE, JUST SCROLL DOWN TO READ EACH (AT THE BOTTOM, YOU'LL SEE A LINK TO GO TO THE NEXT PAGE OF DONUT DOLLIE DETAIL FEATURES)