In our thirteenth edition of the Donut Dollie Detail, Lou Breen Rundle talks about how she did programming events for the soldiers to try to take their mind off the war for a little while, experiencing a rocket attack at Cam Ranh Air Base, and flying in a Caribou cargo plane affectionately known as Santabou, to hand out the free goodies to servicemen.
Please share the Donut Dollie Detail with family, friends and veterans you may know, and make sure to like/follow us on Facebook to learn when the next edition is posted.  You can also share your email address with us at list@donutdollies.com for updates on the upcoming release of the Donut Dollies Documentary (we will not share/sell your email and will only use it for Donut Dollie related updates).
Please meet Red Cross Donut Dollie Lou Breen Rundle…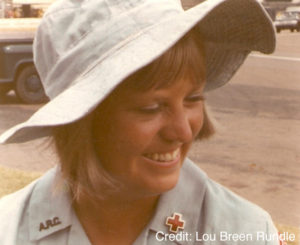 What prompted you to join the SRAO (Supplemental Recreation Activities Overseas) and want to go to Vietnam?
I went mainly because I was curious about the war. There were just too many people at home doing nothing but complaining. I hoped I could help in this program.
When and where were you stationed in Vietnam? Did you go by a nickname?
I served in Qui Nhon from Aug-Oct '71 and at Cam Ranh Air Base (CRAB) from Oct '71-Apr '72, and I was known as Lou.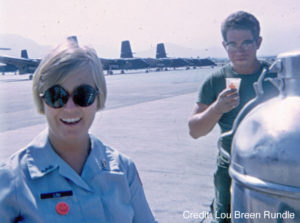 What was a routine day like in Vietnam?
In Qui Nhon it was traveling every day. Get up early; call for a chopper; run to the chopper pad on the beach & hitch a ride; thank our pilots with a grease pencil smiley chopper drawn on their window; then program; visit; listen; laugh; hand out short timer's calendars; do card, string, or rubber band tricks or learn new ones from the guys; maybe serve lunch; and then head to another fire base.
At CRAB we were both mobile and had a recreation center. Some days we traveled and some days we worked at the center where we had lemon Kool-Aid and snacks, music, card games, pool tables, etc. We also did special events like plays, fashion shows, shave & haircut day, a Halloween carnival, etc. We "Kool-Aided the flight line" and visited patients at the hospital at Cam Ranh handing out care packages with games, crossword puzzles, short timer's calendars, and a page dedicated to getting to know our Donut Dollie unit.
Did you ever have any "close calls" either on base or in any vehicles?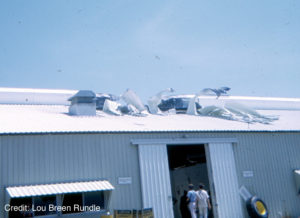 I remember the first time I saw tracer bullets when flying in a Huey, and asked, "What are those pretty things?" The pilots yelled that we were being fired at and took the chopper down to tree level to keep us safe. Another time there were rocket attacks at CRAB (see photo at left), but I slept right through them!
I never had any fear for my safety; these brave men always took extra precautions for us.
Were you ever injured while in Vietnam?
No.
What was it like to visit the soldiers in the hospitals?
I don't think they sent us to see the badly injured men. We usually visited wards with men who could interact with us and do the silly things we asked of them.
How was the transition returning home to the United States?
My family and friends were happy to see me. We mainly talked about what I did on R & R and about the parties and fun events we had. I was able to get a job and started teaching in August of '72.
What would you like people to remember and understand most about the women who served?
We are all Americans who love our country. We wanted to do something to help, were fortunate to get a chance, and hope we made a difference.
How do you feel Veterans think of your time having served with them? Have any Veterans expressed their feelings to you directly?
I hope that when they think of us, they smile! 8-)
What were your fondest or most interesting memories of your time serving in Vietnam?
I will never forget our Santabou Christmas of 1971 where three tactical airlift squadrons from CRAB painted their planes like Santa complete with a red nose & hat. They'd had raffles to raise money for fruit, candy, pretzels, alcohol, etc. and invited us to fly with them to bases and hand out the free goodies to servicemen who had not had things like this for many months. Our plane's bartender, Joe, was even dressed like Superman! It was one of the best Christmases ever – all giving, sharing, and good will.
PLEASE NOTE: THERE ARE 12 PREVIOUS EDITIONS OF THE DONUT DOLLIE DETAIL THAT CAN BE SEEN HERE, JUST SCROLL DOWN TO READ EACH (AT THE BOTTOM, YOU'LL SEE A LINK TO GO TO THE NEXT PAGE OF DONUT DOLLIE DETAIL FEATURES)