In our fifteenth edition of the Donut Dollie Detail, Marilyn Schmokel Dent tells how she came to join the SRAO program, how her Donut Dollie unit made over 40 helicopter trips each week to firebases and outposts to do programming for the men, and how on her flight home to the states along with returning soldiers, they were welcomed home on the plane by the pilot, but were met with a much different response in the airport terminal.
Please share the Donut Dollie Detail with family, friends and veterans you may know, and make sure to like/follow us on Facebook to learn when the next edition is posted.  You can also share your email address with us at list@donutdollies.com for updates on the upcoming release of the Donut Dollies Documentary (we will not share/sell your email and will only use it for Donut Dollie related updates).
Please meet Red Cross Donut Dollie Marilyn Schmokel Dent…
What prompted you to join the SRAO (Supplemental Recreation Activities Overseas) program and want to go to Vietnam?
During Christmas break of my senior year at Oregon State University, I watched the Bob Hope Special from Vietnam on TV.  I was so moved I wrote him and asked if I could help in anyway.   He suggested I contact my Congressman, which I did. That led me to the Red Cross.  I flew to San Francisco for my interview (first time ever flying) and signed up.  I told my mom and she said "all my life, I worried about my 4 sons going off to war and the one who goes is my daughter!!"  I left for Washington, DC for training in September, 1967.
When and where were you stationed in Vietnam?  Did you go by a nickname?
I served in Xuan Loc with the 11th Armored Calvary from September 1967 – February 1968, in An Khe with the 1st Air Calvary from February 1968 – June 1968, and in Dong Tam with the 9th Infantry Division from June 1968 – October 1968.  No nickname, I was known as Marilyn in Vietnam.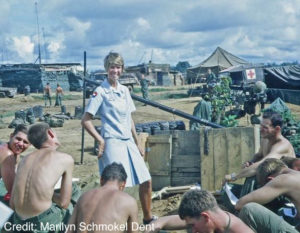 What was a routine day like in Vietnam?
It was going with one other girl with our big brown game bag and heading to the helicopter pad.  We made 7-9 stops a day, six days a week by helicopter out to firebases and outposts for our programs.
Did you ever have any "close calls" either on base or in any vehicles?
I was doing TDY (temporary duty) at Bien Hoa in February, 1968 during the Tet Offensive.  We were completely shut off from the base for several days because our living quarters were in town. Lots of shooting, mortars, and air strikes during that period.
Were you ever injured while in Vietnam?
No
What was it like to visit the soldiers in the hospitals?
It was so moving and so heartbreaking. The GIs were so young for the most part – hurt and scared. I spent many Sundays at the small base hospital – maybe 10 beds. I wrote letters for the guys and visited.
How was the transition returning home to the United States?
In October 1968, our plane landed in San Francisco. The plane was filled with cheering soldiers. The pilot said over the intercom "welcome to the United States of America". We walked into the terminal filled with protesters carrying hateful signs and yelling at the soldiers. It was horrible. My family didn't want to hear about the war or my year in Vietnam. Mostly they just wanted me to get on with my life and get a real job.
What would you like people to remember and understand most about the women who served?
I felt extremely lucky to have spent my year in Vietnam. I loved visiting with the GIs. They were 100% gentlemen, grateful to see me, and polite. I felt nothing but compassion for the soldiers I visited and enjoyed being able to do this work in Vietnam.
How do you feel Veterans think of your time having served with them? Have any Veterans expressed their feelings to you directly?
I think seeing the Donut Dollies gave the GIs a chance to forget the war and their situation for an hour while we did a program for them. The programs were mostly silly, fun, and lifted the spirits of the men. I went to the dedication of the Vietnam Women's Memorial in Washington, DC 24 years ago and received many thank you's from the veterans and other people along the parade route. I was touched.
What are your fondest or most interesting memories of your time serving in Vietnam?
A soldier showed me a small photo album his wife had sent with pictures of their new baby he'd never seen in person. Each photo showed the baby and dad's picture together doing activities during the day – waking up, eating, bathing, smiling, and the last one was the baby saying goodnight to daddy's picture.
A memory every day was seeing the soldiers (no matter how weary and scared) smiling when they saw us arrive.
To this day, I hope I made a difference during my 13 months in country.
During our tours, Donut Dollies had to send in a monthly report to the Red Cross about the number of men we saw every month, which would help us decide which area to visit.  Anyway, after I arrived home and begin looking for a teaching job, I wrote my resume.  I sent it out to many school districts.  Years later, I reread the resume and one of my job descriptions under working in Vietnam as a Donut Dollie was that I "serviced 10,000 men a month".  I bet all the administrator who read that had a good laugh.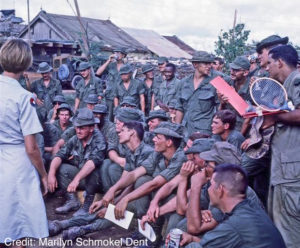 PLEASE NOTE: THERE ARE 14 PREVIOUS EDITIONS OF THE DONUT DOLLIE DETAIL THAT CAN BE SEEN HERE, JUST SCROLL DOWN TO READ EACH (AT THE BOTTOM, YOU'LL SEE A LINK TO GO TO THE NEXT PAGE OF DONUT DOLLIE DETAIL FEATURES)