In our twenty-second edition of the Donut Dollie Detail, Nancy tells how her father, who had two tours in Vietnam supported her decision to go to Vietnam, about being in a helicopter when it was struck by enemy fire, and that working in Vietnam was a "once in a lifetime" experience.
Please share the Donut Dollie Detail with family, friends and veterans you may know, and make sure to like/follow us on Facebook to learn when the next edition is posted. Â You can also share your email address with us at list@donutdollies.com for updates on the upcoming release of the Donut Dollies Documentary (we will not share/sell your email and will only use it for Donut Dollie related updates).
Please meet Red Cross Donut Dollie Nancy Olsen Hewitt…
What prompted you to join the SRAO (Supplemental Recreation Activities Overseas) program and want to go to Vietnam?
I was graduating from the University of Washington in June 1970 with a minor in recreation and was considering going into the Special Services or hospital recreation, when I heard about the Red Cross Supplemental Recreation Activities Overseas.  I just knew the SRAO program was what I wanted and I also knew I wanted to go to Vietnam.  My father was in the Army and had two tours in Vietnam.  He was in Vietnam when I signed up to go, but was home before I left for Washington, D.C. to start my training.  My dad knew about Donut Dollies and was supportive of me going to Vietnam, my mother wasn't as sure.
When and where were you stationed in Vietnam? Did you go by a nickname?
I arrived in country in August, 1970 and was first stationed at Phan Rang Air Force Base.  I stayed there until January, 1971 when I was transferred to Bien Hoa Army.  I left Bien Hoa to return to the U.S. in the middle of February, 1971 when my fiancé was killed at Phan Rang.  Fortunately I was able to return to Vietnam in April, 1971 and was stationed at Cam Ranh Army.  I left CRA for Cam Ranh Air Force Base in October, 1971 and stayed there until January, 1972 when I returned to the states.  I only went by Nancy while in-country.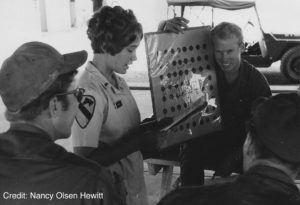 What was a routine day like in Vietnam?
Every day was different and we had to be flexible with our schedules because of weather and transportation.  We would get up early, get ready in our blue dress or blue culottes, grab our ditty bag filled with cards, small games, puzzles and ear plugs, head to the recreation center or to the flight line to hitch a ride to another base for a clubmobile run.  All of the units I was stationed at had a recreation center and clubmobile runs.
Our day was comprised of planning for activities in the center, staffing the center, greeting our guests, making props for our clubmobile runs, flying to firebases, or riding in a jeep or truck to go to another base, visiting the hospitals, serving lunch in a mess hall, waiting for a chopper to come pick us up.  On occasion we were able to fly to a Navy ship off shore and visit with the men.  We put in close to 18 hour days, but the days went by quickly and there were never enough hours in a day.
Did you ever have any "close calls" either on base or in any vehicles?
We took some direct hits on a helicopter when we were returning to base from a clubmobile run and found bullet holes in the aircraft upon arrival.  Another time a helicopter had taken us to Tuy Hoa and was returning to pick us up when they crashed due to a mechanical failure.  Unfortunately, some of the crew were killed.  We visited the surviving crew in the hospital after they were rescued.  We had many mortar attacks on the bases and a fuel dump was hit.
Were you ever injured while in Vietnam?
No
What was it like to visit the soldiers in the hospitals?
The men were appreciative of our visits, but it was hard emotionally on us to keep smiling and seem positive.   Some had malaria and others were combat related.  One of the sailors I visited in the hospital was injured on guard duty.  I knew him from one of our program stops and was called to visit him in the hospital after his admittance.  He was eventually sent home.  The "happy ending" to this, is that I saw him in the summer of 2016 when I went to visit a Donut Dollie friend in Iowa.  They both live in the same town and she called him up, so we had a great reunion.
How was the transition returning home to the United States?
Transitioning to the U.S. was difficult.  We were so use to being on the go every day and all day long that it was hard to not have something to do.  I missed the friends, the activities, the flying, the sound of the helicopters, the traveling, and the weather.  For a long time, if I heard a helicopter flying over, it would trigger a memory of Vietnam.  It was difficult to talk about my experiences to someone who had not been there.  I worked at Oakland Naval Hospital upon returning to the states and I could talk to some of the patients there about Vietnam.  My husband also served in Vietnam and I knew him from Cam Ranh Army, so we are able to talk about Vietnam, even though our experiences were different.
What would you like people to remember and understand most about the women who served?
I feel those of us who went to Vietnam, went there to show our support for the troops.  We had a choice in going and we could choose to leave, they couldn't.  We wanted to serve our country in some way.  We didn't mind leaving the comforts of home.  We were willing to travel and endure the hardships of living in a war zone.  Working in Vietnam was one of those "once in a lifetime" experiences and I will never regret going.  The friendships that were formed there have lasted to this day.
How do you feel Veterans think of your time having served with them? Have any Veterans expressed their feelings to you directly?
I have mostly had veterans thank me for being there and only two who said we weren't much help.  The two veterans who expressed those thoughts to me were in isolated areas and didn't have much or any contact with a Donut Dollie.
What are your fondest or most interesting memories of your time serving in Vietnam?
There are so many memories!  I remember the reactions of the men when we would talk on the radio or record the daily menu on the phone, working in the recreation center and visiting with the men, performing "A Thousand Clowns" on stage at Phan Rang, flying in the Santabou (Christmas themed Caribou airplane) and handing out ditty bags, visiting the orphanages, going on R&R, serving the men in the mess hall, going on the flight line to serve Kool-Aid, programing at an isolated firebase, eating M&M's, drinking tons of soda pop, the willingness of the men to help with projects in the center, and the huge paper mache snowman we made one Christmas.
PLEASE NOTE: THERE ARE 21 PREVIOUS EDITIONS OF THE DONUT DOLLIE DETAIL THAT CAN BE SEEN HERE, JUST SCROLL DOWN TO READ EACH (AT THE BOTTOM, YOU'LL SEE A LINK TO GO TO THE NEXT PAGE OF DONUT DOLLIE DETAIL FEATURES)