In our thirty fourth edition of the Donut Dollie Detail, Rose tells how both President Kennedy and her maternal uncle influenced her decision to go to Vietnam, how she was one of just a few women who served in the Vietnam SRAO program twice, and how the experience was life changing.
Please share the Donut Dollie Detail with family, friends and veterans you may know, and make sure to like/follow us on Facebook to learn when the next edition is posted.
Please meet Red Cross Donut Dollie Rose Karlo Gantner…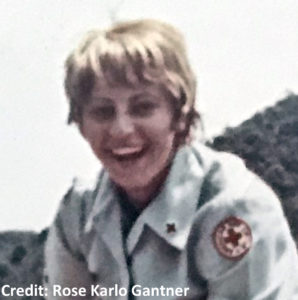 What prompted you to join the SRAO (Supplemental Recreation Activities Overseas) program and want to go to Vietnam?
In my era, while in college, President John Kennedy really moved me with his famous quote: "My fellow Americans ask not what you country can do for you, ask what you can do for your country."  After being a teacher for a short time, I decided it was my duty and honor to give back more and knew in my heart and soul it was going to be Vietnam or the Peace Corps.
A special influence in my life was my wonderful and brave maternal uncle, M/Sgt. George Mamula, who served in WWII and the Korean war. He had distinguished himself quite early as a soldier, and was assigned to Merrill's Marauders in WWII. During WWII, he was awarded the Distinguished Service Cross, second only to the Congressional Medal of Honor, for his bravery and outstanding leadership in Kumhwa, Korea, on September 9, 1951.  He was committed to his country, his Army and all his troops. I and others in my family, especially express much gratitude to him and others who gave so much to protect our freedom and liberty.  I will forever cherish the marvelous stories he told me as he made history come alive.
When and where were you stationed in Vietnam? Did you go by a nickname?
I believe I was one of only four American women to serve in the SRAO twice.  During my first tour of duty from June 1966 – June 1967, I was first assigned to Nha Trang before being promoted by my wonderful supervisor, Liz Miller Magnum and transferred as a unit director to Pleiku.  Along with others, we mainly served the U.S. Army troops, but also had an Australian troop in the HIghlands where we gave support and morale.  My second tour, in January 1969 – January 1970, I was asked by the headquarters of the American Red Cross, SRAO program and Quinn Smith, who was like our executive president, to return to Vietnam as the Senior Program Director to the 100 or so women who were stationed throughout Vietnam at the time.  I was stationed in Saigon, but only lived in the area one day a week as I traveled constantly to our 13 units deployed throughout Vietnam to offer leadership, guidance, support, and work with military leaders regarding logistics and safety concerns.  I was known as Rose during my time in Vietnam.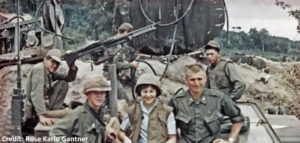 What was a routine day like in Vietnam?
Typically two young ladies (usually one from the North and another from the South or different regions) would travel as a team to the forward fire bases via helicopters, jeeps, and tanks.  Throughout the day their goal was to offer "a one hour break and morale builder" to our troops through recreational games and activities.  No day was ever routine, as we learned resiliency very early on.  We were affectionately called the "Donut Dollies."  Refreshments were served during these times to allow the troops to relax and think about their loved ones.
We were blessed that some of the ARC girls (American Red Cross) had other training and experiences in Korea prior to Vietnam.  My supervisor did, and this sure helped to facilitate daily matters and to make good decisions.
If something happened in the forward firebase that was either unfortunate such as a recent attack, or sad days due to loss of so many brave men, we could modify our programs and try along with others, to offer comfort, hope and gratitude.  One great experience was jumping in the dirty pool of water with troops and having tons of laughter and feisty play.  I even got to learn how to shave a young soldier's face!
After being in the field for 10 hours daily, after getting back to our base camp, we went to visit the wounded in the hospitals and to aid the nurses and doctors.  I loved the medical team who so bravely served our troops and tried to repair their wounds and injuries, while we tried to repair their hearts and spirit.
I was one of the very few girls who requested to see the troops who had depression and other mental health problems as these men were "forgotten" or perceived as not brave at the time.  Now, we know they suffered from post traumatic stress disorder.  This experience, especially helped me to learn my passion and purpose in life.
Another great experience was going out in the field and visiting the Montagnard villages and helping with hygiene.  We were led by Colonel Martha Raye, who also stayed with us for several days while touring Vietnam.
While I was supervising others during my second tour, along with about three other senior leaders, we had the "big picture" and had to decide what young leaders should be placed in what units and why, who should be promoted (now called talent management), and tried to match their skill sets (writing, history, drama, teaching etc) with their personalities.  When you have many young leaders sharing the same mission and passion, but small physical space with some rough conditions, it behooves one to think carefully of the personnel and placement (HR functions).  It was a joy to have the opportunity to work with high level military personnel as well regarding program selections, logistics and more.
Did you ever have any "close calls" either on base or in any vehicles?
Yes, as I traveled during my second tour throughout South Vietnam, I flew in many helicopters to get to many places in one day or more.  Occasionally, the close calls were more for an equipment or maintenance failure.  I knew if something terrible happened, I was going to be with the very best in God's hands.  I trusted the soldiers completely, as they were so professional and genuinely cared about our safety too.
Were you ever injured while in Vietnam?
No
What was it like to visit the soldiers in the hospitals?
Initially I was scared to death, probably threw up when I first experienced some horrific scenes of soldier's injuries and battle wounds, but got over it quickly, and then, responded, "What can I do to help?"  "What can I do to make it better?"  Many times it was just holding someone's hand and letting them know you cared.  Living with nurses during my second tour really helped a lot and I am forever grateful for what they taught me.
How was the transition returning home to the United States?
Difficult initially as everyone had such mixed feelings about the war and at what cost to lives, besides financial and geopolitical matters.  I remember playing a lot of music to heal my soul and adjust to normal life again.  I jumped right back to full employment, which certainly helped and started to focus more on the positives than to think about the negatives.
What would you like people to remember and understand most about the women who served?
We were idealistic young, college graduate leaders who wanted to change the world and do a social good.  Because of the SRAO, we were given this privilege and honor to serve our country with pride.  Many young women came from military families or had someone in their family who influenced them to take this step forward.
This experience forever changed me and made me a more tolerant, kind, and compassionate person who always wants to continue to make a difference.  I know my "sisters" from the ARC all feel this similar or same desire with passion and purpose. This is why I later became a counseling psychologist and consultant nationwide, and personally provided pro bono treatment to soldiers and their families with PTSD for over ten years while having my Center for Life Coping Skills, in Columbus, Georgia.
How do you feel Veterans think of your time having served with them? Have any Veterans expressed their feelings to you directly?
Very positive responses from vets who after I thank them for their service, once they learned what my role was, turn around, and thank me too.  Not too long ago I attended a special meeting for vets in Pittsburgh, PA at the Soldiers and Sailors Memorial, and had several vets hug me warmly and asked me to join their group on the Southside of Pittsburgh, where I was born and raised.  There's something very special about vets and always will be! It's nice to be included and feel part of a "bigger family."
I only wish that when the good Lord takes me to his heavenly home, I along with all other women who served in Vietnam (even though we were civilians and have no benefits), we could be honored with the American flag on our coffins too.  Perhaps this is something that should be suggested to our political leaders today?
What are your fondest or most interesting memories of your time serving in Vietnam?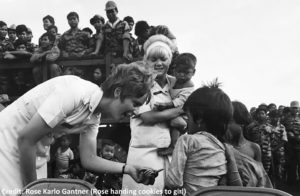 Having the opportunity to serve and help shape other young talented ladies who shown a lot of humility and purpose, and who always would go the extra mile to accomplish our mission.  Making long term friendships with ARC girls and some vets that was built on integrity, trust, and solid character.
Having Colonel Farmer, from the Army in Pleiku, track down my first cousin, Jules Bobik, a brave enlisted soldier serving in the southern portion, for me, and coordinating with others to have us visit together for a few days in Vietnam.  Awesome!  Tears and joy forever!  He is now in Heaven, but I know Jules is looking down and smiling from above.
Meeting my former husband, Charles J. Gantner, Jr, who was an Army Captain and aide during my second tour.  After 12 years of marriage, we divorced, but have fond memories of our experiences together.  I am delighted he has since remarried.
Having the opportunity to do the SRAO service twice and to continue to learn, grow from mistakes, and become the person I am today who is very contented, healthy, and enjoys a great quality of life.  I'm always ready and willing to continue serving in other new capacities as a recent retired person.
PLEASE NOTE: THERE ARE 33 PREVIOUS EDITIONS OF THE DONUT DOLLIE DETAIL THAT CAN BE SEEN HERE, JUST SCROLL DOWN TO READ EACH (AT THE BOTTOM, YOU'LL SEE A LINK TO GO TO THE NEXT PAGE OF DONUT DOLLIE DETAIL FEATURES)