In our thirty first edition of the Donut Dollie Detail, Sara tells how the tumultuous 60's prompted her to join the Donut Dollie program in the hope of making a difference, that she would get up at 5AM to chopper out to firebases to program to the soldiers, and that she has fond memories of the soldiers, her Donut Dollie sisters, and the children she visited at the orphanage in Danang.
Please share the Donut Dollie Detail with family, friends and veterans you may know, and make sure to like/follow us on Facebook to learn when the next edition is posted.
Please meet Red Cross Donut Dollie Sara Porter Smith…
What prompted you to join the SRAO (Supplemental Recreation Activities Overseas) program and want to go to Vietnam?
I graduated from college in 1970, having experienced the tumultuous 60's, and thought I could make a difference.  I was extremely idealistic and felt I could solve world problems.
When and where were you stationed in Vietnam? Did you go by a nickname?
I was stationed at Tuy Hoa from August – November 1970, at Danang from December 1970 – April 1971 and at Phan Rang from May – December 1971. I was in Vietnam 15 months, which was just a little longer than the typical year most Donut Dollies were in Vietnam.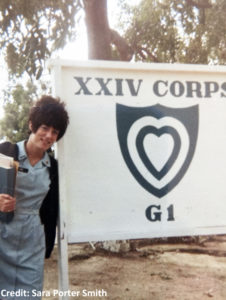 What was a routine day like in Vietnam?
I was fortunate to be stationed at both Clubmobile and Red Cross Recreation Center units, so the days varied.  On Mobile Unit days, we got up around 4:30 a.m. or 5:00 a.m. in order to catch a chopper out to the forward area and firebases.  On Center days, we got up a little later, but arrived at the Center early enough to open the facility and make coffee and lemonade for the troops.
When in the field, we usually visited 4 – 6 forward areas or firebases in a day, staying an hour or so at each stop.  We presented a variety of  theme-centered recreational games and quizzes with the purpose of providing a short diversion from the war.
When at the Center, we created a monthly calendar of activities.  These activities ranged from card games and tournaments, chess and other board games, pool tournaments, theatre productions, small libraries of books and a comfortable environment to kick-back and relax.
Did you ever have any "close calls" either on base or in any vehicles?
Twice: one time on a firebase when there was incoming fire and another time when the chopper I was in lost altitude too quickly.  Fortunately the pilot recovered before a crash occurred.
Were you ever injured while in Vietnam?
No.
What was it like to visit the soldiers in the hospitals?
A mixture of emotions because we needed to be upbeat and positive and at the same time, be compassionate and sensitive to what each soldier was experiencing.
How was the transition returning home to the United States?
Very difficult.  My friends and family had no true understanding of what went on in Vietnam and seemed more concerned about living day-to-day life.  They did not ask in-depth questions, and I could not share anything other than general information.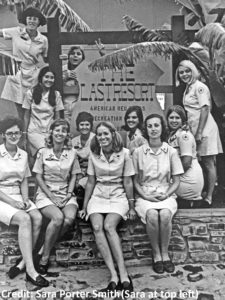 What would you like people to remember and understand most about the women who served?
We truly cared.  We were there to make a difference and to help the soldiers.
How do you feel Veterans think of your time having served with them?  Have any Veterans expressed their feelings to you directly?
Most of them I know, do not know I was there and if I have told them, the initial impression would be that I was a nurse.  The other reaction was, "I never saw one of you there."
The first time I was acknowledged or thanked was at the dedication of the Vietnam Women's Memorial in Washington, DC.  I honestly was in shock and did not know what to say.
What are your fondest or most interesting memories of your time serving in Vietnam?
The most important thing is the soldiers… many who made it home and many who did not.  I remember many of their stories.
Some really, really good things were the trips to orphanage in Danang.  I loved it there and was able to help the children.  It was situated on the South China Sea… a contrast, so to speak: the most beautiful setting and the deepest of tragedies.  I will always remember those little faces.
I remember many of the women in the Red Cross. I have not seen anyone since the dedication of the Vietnam Women's Memorial in D.C. in 1993, but I think about these women more often than they will ever know.  It was unique time in all of our lives.
I was in the class that landed in country on Aug 4, 1970… same class as Ginny Kirsch. She was a sorority sister… she and I were very close.  She graduated from Miami University in Oxford, OH; I grew up 25 minutes from there in Indiana and then attended and graduated from Indiana University.  Both of us were Alpha Chi Omega's in college… it created a bond.
(editor's note: Please learn more about Ginny Kirsch, a Red Cross Donut Dollie who lost her life in Vietnam here)
PLEASE NOTE: THERE ARE 30 PREVIOUS EDITIONS OF THE DONUT DOLLIE DETAIL THAT CAN BE SEEN HERE, JUST SCROLL DOWN TO READ EACH (AT THE BOTTOM, YOU'LL SEE A LINK TO GO TO THE NEXT PAGE OF DONUT DOLLIE DETAIL FEATURES)