In our twenty eighth edition of the Donut Dollie Detail, Teri tells how she joined the Donut Dollie program and convinced two friends to join as well, how she visited the wounded soldiers on the USS Sanctuary Hospital ship in the South China sea, and that even after a long and exhausting day, see was happy to know that she gave a morale boost to the men.
Please share the Donut Dollie Detail with family, friends and veterans you may know, and make sure to like/follow us on Facebook to learn when the next edition is posted.
Please meet Red Cross Donut Dollie Teri Fisk Hermans…
What prompted you to join the SRAO (Supplemental Recreation Activities Overseas) program and want to go to Vietnam?
I wanted to travel and do something exciting when I left college.  Also, I was an Army brat.  I was aware of some Red Cross programs, so I sent a letter to the Red Cross asking about job opportunities, and received information about the SRAO (Donut Dollie) program.  I told 2 of my friends from the University of Nebraska and they both joined the SRAO program, with one going to Korea and the other to Vietnam.
When and where were you stationed in Vietnam?  Did you go by a nickname?
I attended the training class in Washington, DC at the end of July, 1969, and I was first stationed at Camp Eagle with the 101st Airborne Division from August – November, '69; then Cam Ranh AFB from November '69 – May '70; and then at Cu Chi with the 25th Infantry Division from May – July '70.  I was known as Teri in Vietnam.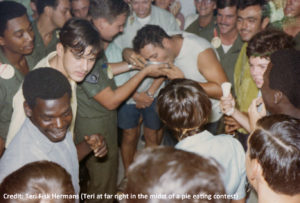 What was a routine day like in Vietnam?
At Camp Eagle and Cu Chi, which were both division base camps, we had clubmobile units that visited firebases.  Two women at a time rotated to do program development one week, and then 2 or 3 weeks in the field.  The week we developed a program, we stayed at the base camp, came up with original ideas, developed all the props for audience participation type games that would last one hour and could be carried in one large bag. The weeks we were in the field we were up at 6:30 or 7, had breakfast at the mess hall, 2 of us would meet our designated chopper with our bag of programs, fly out to firebases and do a one hour program, getting as many men involved in the activities as we could.  The men loved the deviation from their regular duties and/or boredom, if only for an hour.
A chopper (usually a Huey) was assigned to shuttle us from firebase to firebase, usually 4-5 firebases per day, then back to our base camp.  At the end of the day we were tired, hot, sweaty, dirty, and very gratified to know that we had boosted the morale of the guys in the field.  At Cam Ranh AFB we did not spend much time in the field, as we ran two recreation centers, much like USO Clubs, where there was coffee, pool tables and card games.  We planned all kinds of activities during the day that were well attended by the guys; some of them were pie eating contests (see photo), different tournaments, taking the guys to an orphanage, doing fashion shows, etc.
Did you ever have any "close calls" either on base or in any vehicles?
I experienced incoming several different times at Camp Eagle, usually at night, which kept our unit in the bunker.  Once at a firebase, we spent a long time in the TOC (Tactical Operations Center) due to incoming, and somehow we did not seem phased.  We always felt well protected… youth has its advantages!
Were you ever injured while in Vietnam?
Yes… this is ridiculous… I twisted my knee while dancing and had to wear a cast. Also, in our hooch at Cu Chi, while repairing a board for one of our programs that had a nail on it, it fell and hit my head, for which I had a few stitches.
What was it like to visit the soldiers in the hospitals?
Depressing in Vietnam, as they were always injured quite badly, but the guys always appreciated our visits.  I also had the opportunity to program on the USS Sanctuary Hospital Ship in the South China Sea…. those guys really appreciated our visit.  From 1970-71, I was with the Red Cross at the Long Beach and San Diego Naval Hospitals – most of the men in these facilities were not badly wounded, so we planned outings to baseball games, trips to the zoo, etc.
How was the transition returning home to the United States?
It was difficult… no one to talk to about my experiences and I couldn't find a job. I visited my friend for a while in Arizona, then rejoined the Red Cross.
What would you like people to remember and understand most about the women who served?
That it was a memorable, positive experience for most of us.  The work we did was appreciated and morale boosting…not to mention exciting.  We were young, loved what we were doing, didn't think much about the dangers of war, and we felt we were helping in a way that we could.
How do you feel Veterans think of your time having served with them? Have any Veterans expressed their feelings to you directly?
Most veterans appreciated what we did… and yes, many friends/vets have thanked me.  A couple years ago I was in Santa Fe… my Colorado license plate holder says Donut Dollie in pretty small letters.  It was about 6AM, and this car is coming up behind me and the guy started honking and honking, then he pulled up beside me and said he was a vet, and asked if I was a Donut Dollie?  I said yes, and he thanked me.
What are your fondest or most interesting memories of your time serving in Vietnam?
The camaraderie of the women.  Many of these women (and their husbands who were vets) are still good friends.  We lived together, worked together and had experiences that most women never had.
The welcoming, wonderful guys.  We were so appreciated and felt we were doing something positive to help them.
I met my husband (to be) in Cu Chi and after 46 years, 2 kids and 4 grandchildren, it is still a great marriage.
PLEASE NOTE: THERE ARE 27 PREVIOUS EDITIONS OF THE DONUT DOLLIE DETAIL THAT CAN BE SEEN HERE, JUST SCROLL DOWN TO READ EACH (AT THE BOTTOM, YOU'LL SEE A LINK TO GO TO THE NEXT PAGE OF DONUT DOLLIE DETAIL FEATURES)