In our twenty fourth edition of the Donut Dollie Detail, Diane tells that she went to Vietnam to support the troops, why Donut Dollies would drink 6-8 Cokes in a day, and how she repelled from a helicopter over Camp Evans.
Please share the Donut Dollie Detail with family, friends and veterans you may know, and make sure to like/follow us on Facebook to learn when the next edition is posted. You can also share your email address with us at list@donutdollies.com for updates on the upcoming release of the Donut Dollies Documentary (we will not share/sell your email and will only use it for Donut Dollie related updates).
Please meet Red Cross Donut Dollie Diane Johnson Tucker…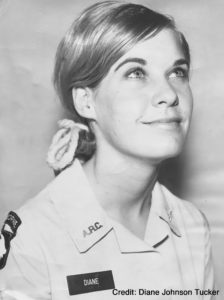 What prompted you to join the SRAO (Supplemental Recreation Activities Overseas) program and want to go to Vietnam?
My reasons were twofold.  I wanted to travel and see the world (ha!) and I felt like we needed to support our troops that were being sent to war.
When and where were you stationed in Vietnam?  Did you go by a nickname?
I was stationed in Qui Nhon from March – June, 1970, at Camp Eagle (near Hue or Phu Bai) from July – October, 1970 and at Cam Ranh Bay from November, 1970 until my departure in February, 1971.  I was known as Diane during my tour in Vietnam.
What was a routine day like in Vietnam?
A routine day consisted of flying by helicopter to 6-8 firebases and putting on our unique programs.  The troops always wanted to give us something and the only thing that they had to offer were Cokes.  We would drink 6-8 Cokes in a day, because they seemed hurt if we did not accept!!!  After returning to base camp we were often invited to attend a dinner or some sort of celebration.
Did you ever have any "close calls" either on base or in any vehicles?
While stationed at Qui Nhon and Camp Eagle we had to run to our bunker 5-6 times, but none of us came close to being injured.
Were you ever injured while in Vietnam?
No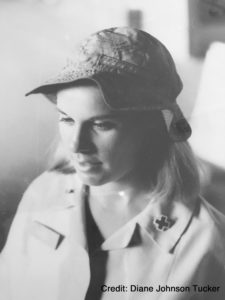 What was it like to visit the soldiers in the hospitals?
I found visiting the soldiers in the hospital very difficult, because I had a hard time figuring out what to say to them.  Especially if they were missing limbs.
How was the transition returning home to the United States?
I had no problem with the transition home.   Surprisingly I was greeted favorably upon landing (we had to land at Oakland).
What would you like people to remember and understand most about the women who served?
Over the years I have learned that the world consists of givers and takers. The ladies that I worked with in Vietnam were definitely "givers"!
How do you feel Veterans think of your time having served with them?  Have any Veterans expressed their feelings to you directly?
Many years went by and not much was said, however, recently I have been hearing "thank you's" from veterans and have spoken to a couple groups about my experiences.  It seems that there has been an awakening of interest in the Donut Dollies.
What are your fondest or most interesting memories of your time serving in Vietnam?
One of my most interesting memories is of a 1st lieutenant whose wife had come into the country!  There was no place for her to stay, so she stayed with us!  While her husband worked, we took her with us on our trips to the firebases and she helped us serve lunch to the troops!  That could have meant trouble for ALL of us!!!
Another memory is repelling from a helicopter over Camp Evans.  Very unfortunately, however, the young captain was demoted for allowing this, but his purpose was to show the Vietnamese that he was training, how not be be afraid.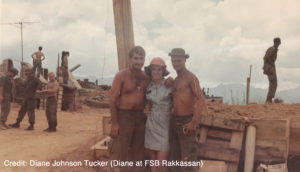 PLEASE NOTE: THERE ARE 23 PREVIOUS EDITIONS OF THE DONUT DOLLIE DETAIL THAT CAN BE SEEN HERE, JUST SCROLL DOWN TO READ EACH (AT THE BOTTOM, YOU'LL SEE A LINK TO GO TO THE NEXT PAGE OF DONUT DOLLIE DETAIL FEATURES)