In our twenty fifth edition of the Donut Dollie Detail, Sam tells how wanting to go on an adventure prompted her to join the SRAO program in Vietnam, how she got the nickname Sam, and how the Donut Dollies broke down barriers for women who wanted to serve our country.
Please share the Donut Dollie Detail with family, friends and veterans you may know, and make sure to like/follow us on Facebook to learn when the next edition is posted.  You can also share your email address with us at list@donutdollies.com for updates on the upcoming release of the Donut Dollies Documentary (we will not share/sell your email and will only use it for Donut Dollie related updates).
Please meet Red Cross Donut Dollie Jeanne "Sam" Bokina Christie…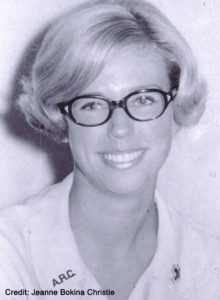 What prompted you to join the SRAO (Supplemental Recreation Activities Overseas) program and want to go to Vietnam?
What made me go?  Adventure, and I lived in Wisconsin at the time, where it is very cold…  I wanted to go someplace warm and I had NO clue about the war.
I went for training in Washington, DC and we learned about military rank and protocol, and some programming, but it was not until we got to Vietnam that it made any sense.  I had been an Art Major in College, so construction and visual design were not a problem for me.  However, leaning to communicate confidence and positive energy came from experience and from one another.
Training… How does someone 'teach' you to speak to a group of men, in fact many men with different agendas?  Experience.  Look at each, smile, use your non-verbals, let them know they are important and you're their sister/wife/mom…. own the moment, make it special for them and then move on.  The women who were 'old timers' had perfected the art of communication and time management and we learned it from them.  Training was not just a class, it was a life experience.
When and where were you stationed in Vietnam?  Did you go by a nickname?
I was stationed at Nha Trang from January to late April 1967, then at Danang from late April to September 1967, and then Phan Rang from September 1967 until the start of Tet in 1968.
Sam was my nickname.  I had lost my nametag in Danang and a Gunnie Sergeant came into the flight line center one day, and I was "out of uniform" with no name tag, so he gave me a "Sam" nametag.  I put it on and the next morning at 0700 I had to do a TV spot for the Freedom Hill Center and it was one of those split second moments.  I started to say "Hi, I am… (realized I still had the nametag on) and said Sam.  So, I stayed Sam for the rest of my tour.  Besides, it always made me smile and the guys always tried to figure out what my real name was.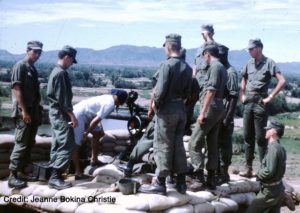 What was a routine day like in Vietnam?
I really have to view it as the job we did, which was psychological health and welfare. We did an awful lot of just listening to the guys, especially when they would vent. Sometimes we tried to make sense of their crazy world and make life bearable for them.  Sometimes we were goofy and just fun loving.  We were like a balancing ball, or gyroscope, that stayed centered.
We learned to bury the unpleasant parts of the experience and take the next step forward.  We learned that our composure helped their composure.  If you could get someone to laugh, then they couldn't cry… the same was true for us.
This is going to sound silly, but it was our job!  There were many times when it was very, very difficult, but you did the best you could and if the Donut Dollie you were working with, fell apart, you did the best to pull it all back together.  We learned to make jokes, laugh at ourselves, take a deeeeeeeeeeeeeeeeeep breath, gather composure and Smile!
Did you ever have any "close calls" either on base or in any vehicles?
While in country, I had experienced serious illness, been sexually harassed, experienced a person break into my quarters, and dealt with peeping toms.  I even had to deal with being told that my Donut Dollie photos had been found on a captured VC.  These challenges and dangers refined my thinking and attitude.  Seeing so many wounded along with the attrition rate, made me realize it was not my time.  Sometimes there was no rhyme or reason why things happened or people died, so that was part of why I developed that attitude.
Were you ever injured while in Vietnam?
Nope, not injured in Vietnam, but I did get amoebic dysentery while in Nha Trang and ended up being carried over to the hospital by Kathy Wickstrom, who was my roommate.  I was not in good shape and Kathy had to move out of our room.  Bein the housemaid, took care of me until I could move.  I could barely walk, so Kathy helped me get to the dispensary.  Then the doctors wanted to take my temp and I started heaving all over again.  They placed me in a private room off one of the wards to recover.  All the guys on the ward knew I was in the room.  The worst part was, I had to try and walk to the nurse's head, and when I finally needed it, they served onion soup, which made me gag all over again. Just a memorable moment in my life…
What was it like to visit the soldiers in the hospitals? 
First of all… I can hardly put a bandage on someone… I had NO medical training.  None – zip, nah dah!  I did have empathy and compassion like many of the nurses and I had a job goal.  Theirs was medical, mine was psychological.
How was the transition returning home to the United States?
Returning home was difficult.  Life in Wisconsin was so mundane and boring.  My father was very pragmatic and his attitude was, "Okay Jeanne, get on with your life.  What are you going to do now?"  I had been accepted into a Graduate program, so I knew what I was going to do.  I tried to get a menial job for 3 months, screwing tops on pots, but the company would not hire me.  So I called the Red Cross and they sent me back to work at Great Lakes Naval Hospital until I was ready for school.  I was a wild/cocky/not wanting to follow strict rules person.  Wear a cap?  I would carry it until I walked to the door.  Put it on my head and walked through the door, then took it off again.
In Madison, the students were protesting and I had learned very quickly I could not share my experiences of Vietnam with them.  I just did not like what I heard people saying and thinking about the Vietnam War and the veterans who were "my boys", and always will be, for as long as they/we live.
We lost many good friends and have witnessed the fallout of our country for those who only did as they were told.  We (in a very collective way) refuse to let that happen again.  However, we were exclusive self-managing teams who went were other feared to go.  We broke barriers and the standards for what the next generation of women could do.  We did it with pride and dignity.  Like our silent role over there, we are still doing many silent tasks that make a difference in the communities we live in.
What would you like people to remember and understand most about the women who served?
I am always reminded that I am not a veteran!  I have no DD214 form, I have no healthcare or pension.  I have no access to veteran's programs and benefits.  I have nothing but my memories.  A bitter pill?  Yes and no… because that was a historical time, and I recognize that only 3% of the total military could be women.  I knew the military needed medical people, intelligence personal and support staff (The Marine Corps actually had a woman's patch).  I had been an Art Major, so the MOS (military occupational specialty) options were not for me.  Several years later the quota was raised to 11%, but combat slots were not available for women for many years to come.
I had never been debriefed for the traumatic events that I had experienced, and I really needed someone to talk to.  A dear Air Force friend was the decompression person.  He was a good buddy who could tell me like it was and I respected his opinion.  So I went to see him and that gave me time to pull my thoughts together.
We dared be in an unpopular national crisis, but had little to say, yet we supported so many.  For what it was worth, I did write protest letters to the President when I was back in the states.
Well, the men just saw us as the girl back home… they saw their mom, who had cared for them, and they saw us as angels and bitches all at the same time.  Angels because we were in light blue and 'smelled good" and often flew into their locations (as if dropping in from the sky).  Bitches because we talked to everyone, and sometimes we had to put a guy who wanted exclusive attention or physical attention, in their place.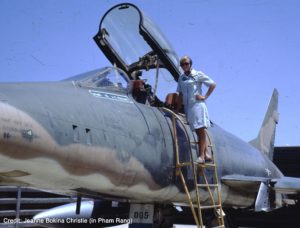 How do you feel Veterans think of your time having served with them?   Have any Veterans expressed their feelings to you directly?
When I first became involved again back in the 1980's… I ran into a few vets who did not really know a Donut Dollie.  However, I must admit I ran into more who did know who we were and valued our connection.  In fact one vet who heard I was a DD gave me a big sweep you off your feet hug and a huge kiss before walking away.  One group of vets in DC, during one of the early events, turned to my husband (a Vietnam era vet) and said "she's not your wife, she is our Donut Dollie".  He has never forgotten that reality check, but totally understands the perspective and depth of meaning.  I feel it was a moment when my husband knew I would always be his wife, but my heart would remain with another group of veterans until my and their dying day.
During the past decade or two, I have had nothing but kind words from the vets as they shared their past difficult and wonderful experiences.  Even if they never had a DD visit their unit or firebase, they have learned from other vets about DD's, who did know what we did and valued our efforts.  Many remain surprised we 'volunteered' to go and did what we did.  What sometimes surprises me is just walking about and having a younger vet walk past and they say "thank you for your service".  I am always taken back a bit, but feel very flattered that they care that we cared for their brothers.  On the other hand, I also care about their service and sacrifices and say so.  There will always be something special about our collective experiences.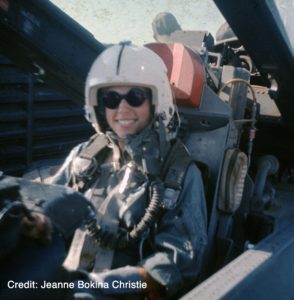 What are your fondest or most interesting memories of your time serving in Vietnam?
Nothing but memories… it is not meant as a negative, but a reality.  Today, when I think about how Vietnam affected my life, it is both a positive and negative.
The positives = I can and will do darn near everything I set my mind to… some may say I'm bullheaded or determined, but I think it is just knowing what I want.
I have seen and done a lot during my lifetime… and I can understand the historical perspective for example, regarding the roles of women and the role of caregiving.
I made good friends, lost good friends, but have continued to move in a forward motion.
I learned a heck of a lot about myself – We only cry for ourselves, so quit crying and get going.  Life is a revolving cycle and we have to enjoy the moments.  I learned to laugh at crazy things.  Life has been interesting.
The negatives = I lost a lot of faith in the integrity of governments.  Not just ours, because they all play a different game, but in the way alternate truths and realities often skew various perspectives.
War is a nasty game, I wish we would never have war again.
I was tough on my children when they snibbled and whined; I was the drill Sergeant and made them get moving.  Actually that was not bad, but I do see the attitude coming back sometimes.
I still can have a hard surface… (for example when my students give me their excuses).
I learned to laugh at crazy things when it sometimes is not generally appropriate.
Vietnam was my million dollar education.  I learned so much about the world, men, other people, but mostly about myself.  How strong, and even tough, I could be and how much I could accomplish.  I learned to dig deep within myself and address those often difficult decisions we have to make in life.  Would I do it again?  Absolutely, but of course I am no longer 21 years old.
PLEASE NOTE: THERE ARE 24 PREVIOUS EDITIONS OF THE DONUT DOLLIE DETAIL THAT CAN BE SEEN HERE, JUST SCROLL DOWN TO READ EACH (AT THE BOTTOM, YOU'LL SEE A LINK TO GO TO THE NEXT PAGE OF DONUT DOLLIE DETAIL FEATURES)