In our twenty ninth edition of the Donut Dollie Detail, Linda tells how hearing a presentation at her college by General Lewis Walt prompted her to join the Donut Dollies program, how she and a fellow Donut Dollie had been dropped off to program at a location where there were no soldiers and needed to be extracted quickly, and that she came home from Vietnam with a trunk load of memories, but didn't open it for years.
Please share the Donut Dollie Detail with family, friends and veterans you may know, and make sure to like/follow us on Facebook to learn when the next edition is posted.
Please meet Red Cross Donut Dollie Linda Sullivan Schulte…
What prompted you to join the SRAO (Supplemental Recreation Activities Overseas) program and want to go to Vietnam?
Throughout my college life I marched in anti war protests.  In my senior year (1967-68) at Western Maryland College (now McDaniel), General Lewis Walt had just returned from Vietnam and came to speak to our students.  He impressed me greatly with his articulate presentation, his concern and his integrity.  I decided I needed to go to Vietnam to learn more… we had a number of classmates serving there.. I wanted to see what Vietnam was really about.  I wrote to a variety of nonprofits looking for an organization to send me there.  The Red Cross interviewed me.. the job was for one year and they wanted women ages 21 to 25 with liberal arts degrees.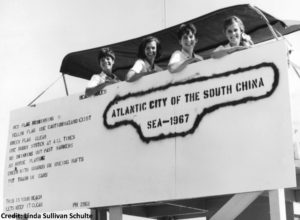 When and where were you stationed in Vietnam?  Did you go by a nickname?
I arrived in Vietnam in July of 1968… a month after graduation.  I was stationed in Lai Khe with the 1st Division… the Big Red One.  In October I was transferred to Dong Ba Thin to close that unit and move it to a new Air Force Base at Tuy Hoa.  Then in February or March, not sure exactly, I was sent up north to Phu Bai.  No nicknames in Vietnam, just Linda.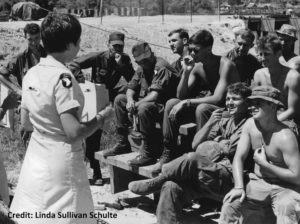 What was a routine day like in Vietnam?
There were seldom any routine days, but I was mostly involved in clubmobile units traveling generally by helicopter out to different field units.  We Donut Dollies averaged around 1,500 miles a week in our travels.  I'm not sure of the origin of that figure, but it was in my journal.  We would mainly program to troops, handout supplies and mail, etc.
Donut Dollie Suzie and I got dropped off once at the Loch Ninh air strip through a mix up.  There were no U.S. soldiers there… it was just us holding our program bag.  Fortunately, General Talbott, Commanding General of the Big Red One, swooped down in his chopper and removed us quickly.
Did you ever have any "close calls" either on base or in any vehicles?
We all had incidents like getting gassed, watching occasional rockets come into the base and sniper fire, but nothing serious, as the troops took care to protect us.
Were you ever injured while in Vietnam?
Not injured.
What was it like to visit the soldiers in the hospitals?
We visited those who were truly injured in hospitals.  It was always difficult, as many of those visited were just a few years younger than us.
How was the transition returning home to the United States?
The transition home was easy.  I got home with a trunk loaded with Vietnam memories and vowed to not open it for a while.  I went to the Baltimore Red Cross to thank them for allowing me to be a part of SRAO and was offered a job.  I started it a week or so later.  I didn't open that trunk for years, which allowed me to spoon out those memories in select doses… and manage the emotions that way.  I joined Ron Kovic in DC protesting the poor care Vietnam vets were receiving from the VA.
What would you like people to remember and understand most about the women who served?
I'd hope that people remember all of the women who served in Vietnam, but also remember that it took decades for those Vietnam vets to get welcomed home.. and some have never been.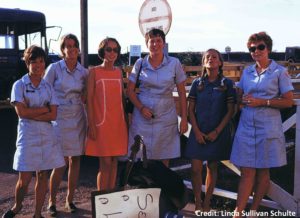 What are your fondest or most interesting memories of your time serving in Vietnam?
My best memories are all about the people there, as well as the Donut Dollies that I am still fortunate to call friends.
PLEASE NOTE: THERE ARE 28 PREVIOUS EDITIONS OF THE DONUT DOLLIE DETAIL THAT CAN BE SEEN HERE, JUST SCROLL DOWN TO READ EACH (AT THE BOTTOM, YOU'LL SEE A LINK TO GO TO THE NEXT PAGE OF DONUT DOLLIE DETAIL FEATURES)