In our 63rd edition of the Donut Dollie Detail, Barbara tells how her interest for travel led her to join the SRAO program, that she believed she had 9 lives while in-country and that the lack of trees in Korea made for some challenging times when going to visit the men in the field.
Please share the Donut Dollie Detail with family, friends and veterans you may know, and make sure to like/follow us on Facebook to learn when the next edition is posted.
Please meet Red Cross Donut Dollie Barbara Massey McGinity…
What prompted you to join the SRAO and want to go to Korea?
I ended up in South Korea with the Red Cross simply because I wanted to travel and the placement officer at my college handed me a pamphlet and said, "Here, you might be interested in this, I know you want to travel."
Next thing you know, I'm in St. Louis for an all day interview. I thought they had units in Europe, which is where I wanted to go. They had me wait for 30 minutes and when they returned, they said, "would you like to go to Korea or Vietnam." As my brother was draft age and in the Lottery, I chose Korea.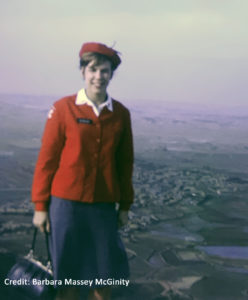 When and where were you stationed in Korea? Did you go by a nickname?
When I was in Korea from 1967-68, I was first stationed at Camp Casey, 7th Division in Dongducheon (aka Tongduchŏn). From there I went to Camp Humphreys near Anjeong-ri and Pyeongtaek, which was a travel unit (aka clubmobile), I was Program Director and then Unit Head. Then I went to Osan Air Base, which was also a travel unit. I did not go by a nick name.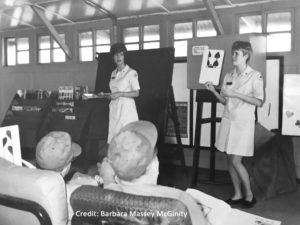 What was a routine day like in Korea?
At Camp Casey we mostly did our programs on the post since it was so large. We did go to Camp Kaiser, which was above the 38th parallel, where men were being killed and injured. We flew by helicopter. When we first arrived and went on travel runs, I was terrified. There were only 8 of us girls and I was not used to men my age. I shook like a leaf. Later it was fine.
Travel units were fun and adventurous. We had to find our own rides, whether by truck, train or helicopter. We got stranded in the snow, drove through creek beds, etc., whatever it took. The men were great for the most part and grateful we were there. Sometimes if we were on a small communications site at the top of a mountain, we would just talk with the men. We went to missile sites, air bases and lots of units, which sometimes would take 5-8 hours to get to. We would stay over night.
Sometimes it was freezing cold and the Red Cross would not allow us to wear pants, so we used 2 sets of stockings. I remember one trip, when I had gone to straighten out a unit who had treated our girls disrespectfully. On the way back the men sat in the warm cab while we were in the back freezing and having to go to the bathroom soooo badly! There were no, and I mean no trees in Korea, so there was no privacy. We had to wait until we got to the next unit on our run. Miserable! Actually, the M*A*S*H* movie (1970) was a lot like it was for us through the year. I laughed through the whole movie and remembered different incidences that were similar.
Did you ever have any "close calls" either on base or in any vehicles?
As far as accidents go, I guess I had 9 lives. I was in a minor truck accident where I was sure I was going to be hurt, but wasn't. One night, my room in our living quarters caught fire and filled with smoke. Donut Dollie Karen Short rescued me at 2 AM when she saw smoke coming from the foot of my door. If not for her, I would have died of smoke inhalation.
Plus, while on a travel run up by the DMZ (demilitarized zone) we got lost on our way to Panmunjom (aka Panmunjeom) after the midnight curfew. We were stopped by Korean soldiers and there was a huge tank in the bushes aimed at us.
The USS Pueblo was captured on January 23, 1968 while I was in Korea and the entire country went on alert. Also, there were 30 infiltrators between where I was stationed and Seoul.
Were you ever injured while in Korea?
No.
What was it like to visit the soldiers in the hospitals?
(No response)
How was the transition returning home to the United States?
I stayed an extra month. Coming home was strange. I knew people were giving soldiers a hard time when they returned to the states. I came home through Hawaii, so I didn't end up at McChord Air Force Base. Once I got home, I found that everything was so expensive. It felt strange.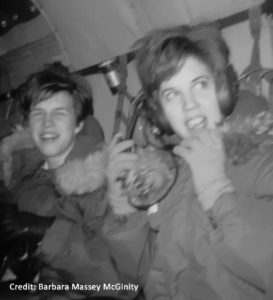 What would you like people to remember and understand most about the women who served?
Most people have no clue what it was like then. I would like them to know how much I appreciated being able to remind the men in Korea, who felt forgotten, that they were remembered. We represented the girl next door. It was an honor to have been there. I was proud to have served the military and worked for the Red Cross. It is the one thing that has impacted my entire life.
How do you feel the veterans think of your time serving with them now? Have any veterans expressed their feelings to you directly?
The Veterans who know about my time in Korea thank me for my service. They also say that I can stand to be recognized whenever Veterans are asked to stand at a public event. Until a Veteran gave me his approval, I never did. Now I stand proudly.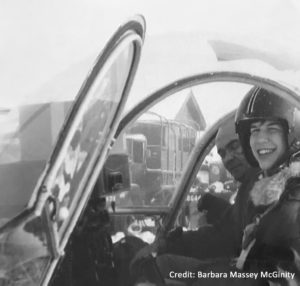 What are your fondest or most interesting memories of your time in serving in Korea?
At the Kunsan Air Base, I met and spent the evening talking with Col. Chuck Yeager, the first pilot who broke the sound barrier. We were both from West Virginia and he was a hero of mine, so that was a big thrill.
I found my letters from July, 1967 through August, 1968. It is good to have the reminder, but much of it I don't remember even when I read it. I still regret not going to Vietnam after 6 months in Korea when I was asked to go, but apparently according to my letters home I did think it through. I have a lot of nostalgia about that time in my life more than any other.
PLEASE NOTE: THERE ARE 62 PREVIOUS EDITIONS OF THE DONUT DOLLIE DETAIL AND 4 EDITIONS OF OUR MEMORABILIA MONDAY FEATURES THAT CAN BE SEEN HERE, JUST SCROLL DOWN TO READ EACH (AT THE BOTTOM, YOU'LL SEE A LINK TO GO TO THE NEXT PAGE OF DONUT DOLLIE DETAIL FEATURES)