September will be one of the busiest for film festival screenings of The Donut Dollies Documentary we've had so far. Each screening will be announced over the coming days and weeks, which we hope will provide you an opportunity for you to see our film either in a theater setting or virtually online.
The September list of film festival screenings include the Orlando International Film Festival in FL (theater setting), Twin Tiers International Film Festival in NY (theater setting), Catalina Film Festival in CA (virtual/online screening) and the Albuquerque Film & Music Experience in NM (virtual/online screening).
Starting next week, we'll release the screening and ticketing information for these four events. For the virtual events, each screening will be "geo-blocked" (restricted) to a specific region or state, which is put in place to avoid scheduling conflicts with other film festivals. The screenings in a theater setting will have limited seating to provide social distancing for the health and safety of all attendees. We realize that these limitations may be frustrating to some, but please know that The Donut Dollies has been chosen as an Official Selection at 9 upcoming film festivals scheduled around the country and we hope you'll have the opportunity to see it soon.
Please be sure to look for the announcements of our film festival screenings on www.donutdollies.com or www.facebook.com/thedonutdollies Please spread the word on The Donut Dollies to you family, friends and veterans you may know living in the areas/states of these and other upcoming virtual and theater screenings.
As always, we thank you for your support!
Norm, Jess & Jim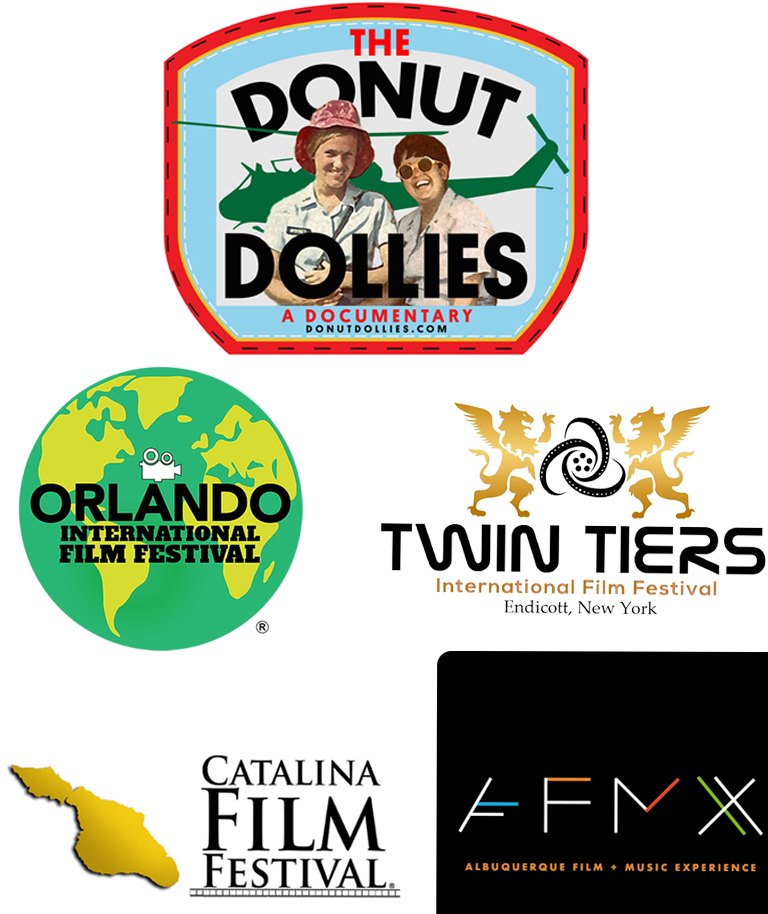 American Legion, American Legion Auxiliary, VFW Auxiliary, Veterans of Foreign Wars, Veterans of Foreign Wars Auxiliary, AMERICAN RED CROSS OVERSEAS ASSOCIATION, ARCOA, , Donut Dollie Detail, BERKSHIRE, BERKSHIRE COUNTY, Cu Chi, CUMMINGTON, Documentary, Donut Dollie, Donut Dollies, DONUT DOLLY, HAMPSHIRE COUNTY, HELICOPTER, Huey, memories, Nha Trang, Pleiku, RED CROSS, Schertz, SRAO, Supplemental Recreation Activities Overseas, Tuy Hoa, veterans, Vets, VFW, vietnam, Vietnam Vet, Vietnam Veteran, Vietnam Veterans Memorial, Vietnam War, VVMF, donutdollys.com, donutdollies.com, thedonutdollies.com, air base, Chu Lai, Phan Rang, An Khe, Dong Ba Thin, Cam Ranh, Bien Hoa, Korea, Korean War, Phu Loi, Long Binh, Quang Tri, Phu Bai, Quy Nhon, Lai Khe, Camp Eagle, Camp Enari, Xuan Loc, Dong Tam, Dian, Di An, Binh Thuy, Da Nang, Danang, Saigon, Ho Chi Minh City, GI Film Festival, Palm Springs International Film Festival, Phoenix Film Festival, Tiburon International Film Festival, Ancient Way Film Festival, Grand Teton Film Festival, Julien Dubuque International Film Festival, Berkshire International Film Festival