In our thirty third edition of the Donut Dollie Detail, Terry tells how her mother inspired her to go to Vietnam, how she still looks up when she hears a helicopter, and that she has fond memories of visiting China Beach and an orphanage in Danang.
Please share the Donut Dollie Detail with family, friends and veterans you may know, and make sure to like/follow us on Facebook to learn when the next edition is posted.
Please meet Red Cross Donut Dollie Terry Lee Harmon…
What prompted you to join the SRAO (Supplemental Recreation Activities Overseas) program and want to go to Vietnam?
There were several equally compelling reasons that I volunteered to serve with the Red Cross in Vietnam.  I suppose first was the inspiration of my mother, a Woman Air Force Service Pilot in WWII.  Vietnam was on our minds.  My friends were being drafted.  When I graduated from college I was already aware of three friends/schoolmates who had died serving in Vietnam.  My mother had found a way to serve her country during war, and I was looking for a way to serve mine.
I also certainly was inspired by John F. Kennedy's powerful words in his January 20, 1961 Inaugural Address "…ask not what your country can do for you, ask what you can do for your country."  It was patriotism.  There were protests, and the press reporting was conflicting and incomplete.  I wanted to understand the war and the sacrifices.  I was looking for a way to be engaged.  I was looking at options of joining the military, but positions for women in Vietnam were limited.  Then I read an article about the SRAO program in my sorority magazine.  I contacted the Red Cross, applied, and was accepted.
When and where were you stationed in Vietnam?  Did you go by a nickname?
My first base was Cam Ranh Airbase (March 1970 – August 1970) and my second base was Danang (August 1970 –August 1971).  I was known as Terry in Vietnam.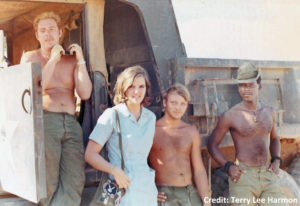 What was a routine day like in Vietnam?
I don't really remember anything being routine.  I remember being very focused on what we were there to do… bring a bit of diversion or per the title of the Arrowhead documentary on us, "A Touch of Home".   Generally where I was assigned, we worked one day a week in our recreation center and flew out to firebases the other days.  I know we had some time off, but I don't remember it being one day a week.  Often time off and evenings were used to work on the next program.
The day we worked in the center we played cards, pool, foosball and just chatted with the soldiers, airman, marines, and sailors who came in.  I never did pick up pinochle which was most popular, so I usually sat and watched and chatted with the guys when they were playing cards.  We also worked on our game-based programs that we took out to the field.  We also spent a good part of any time off we had working on our programs and upcoming events for the recreation centers.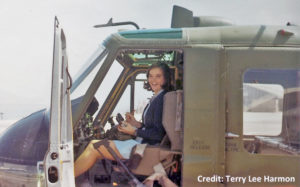 I loved the days we traveled the most.  The military took care of us.  We always traveled by chopper.  To this day the whop whop whop of a Huey makes me look up and recall Vietnam.  There was nothing like the response you got from the guys when you started out a program… "Hi, I am Terry from Silver Spring, Maryland.  Anyone else out there from Silver Spring?"  We just fell in love with the American GIs.  Most were probably there due to the draft.  Conditions on the firebases were rough.  America was in turmoil at home with protests.  They always treated us well and were glad to see us.
Did you ever have any "close calls" either on base or in any vehicles?
No.  Once I was on a firebase and they were shooting at the VC.  Any incoming was not making it to the base.  No one took cover and some of the servicemen were taking photos.
During both of my assignments I was housed on bases with or near airfields.  Maybe we were too complacent, but at night we got used to sleeping through the sound of incoming rockets.  The target was the airfields and the rockets seemed to reliably land in the vicinity.
Were you ever injured while in Vietnam?
No.  While I was in Vietnam we lost two Donut Dollies.  One was lost to what we were initially told was a respiratory problem, and which I believe ended up being Guillain-Barre Syndrome.  I remember getting updates, it seemed like over the course of two weeks.  We were told she was too ill to transport home, and then we were told she had passed away.  I did not know her.
The second Donut Dollie was murdered in Cu Chi while asleep in her bunk one night.  Her throat was slit by a GI who we were told was on drugs.  One of the witnesses was transferred up to our unit in Danang.  I admired this DD very much for not asking to go home.  After this our barracks had a guard. (editor's note: a third Donut Dollie died while serving in Vietnam of a fall from a Jeep, as well as two male Red Cross workers)
What was it like to visit the soldiers in the hospitals?
One of my most poignant memories of Vietnam was visiting a solider from Texas in the hospital who had lost both legs.  He made it easy to visit him.  He was so proud to be a Texan and to be serving his country.  He had a huge Texas flag draped on the wall behind his bed.  I often think about him and hope his country did not disappoint him when he arrived home.
Other than that one particular incident I just remember helping the men write letters home.  When I returned home, I volunteered for the Red Cross at Walter Reed Hospital.  When the wounded came off the ambulance, I rolled their gurney to a pay phone and placed their first call home for them courtesy of the Red Cross.  This was in 1971 prior to cell phones.
How was the transition returning home to the United States?
My return home was pretty routine.  I came back through Travis Air Force Base.  I remembered I was looking forward to getting a hamburger and fries at McDonald's.  I returned to Maryland.  As with the GIs, I really didn't talk about the experience.  I also don't recall anyone asking much about it.  I think people could not relate to where you had been or what you had done.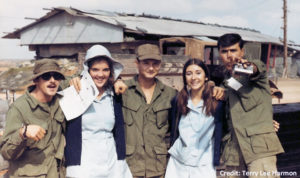 What would you like people to remember and understand most about the women who served?
The GIs loved the Donut Dollies and we loved them.  We were patriotic, fun loving and were looking for a way to support our servicemen (and it was only men where we served, though at some locations we shared barracks with the nurses) regardless of the political climate.
How do you feel Veterans think of your time having served with them?  Have any Veterans expressed their feelings to you directly?
I mentioned my mother was a Women Air Force Service Pilot in WWII.  I traveled to a lot of events with her over the years and would occasionally meet a Vietnam veteran.  If I bring up that I was a Donut Dollie they always thank me.  I think there is a feeling that we were in it together.  The Vietnam GIs feel a common bond with us, and they appreciated that we volunteered to serve in Vietnam and bring that touch of home to them.
What are your fondest or most interesting memories of your time serving in Vietnam?
I remember thinking how peaceful the country seemed in the evenings, and yet I was in a war zone.
I have a fond memory of getting off the plane at Tan Son Nhut Air Base in Saigon worried about what I was going to encounter.  I looked across the tarmac and saw a group of GIs playing volleyball.  This one tall blonde head stood out, and I thought that looks like Bill, one of my high school classmates.  Sure enough it was.  Just incredible.  We still talk about it to this day at high school reunions.
I remember China Beach with fondness.  Sunning on the beach and enjoying lunch on the patio of the China Beach Club.  I had the opportunity to return to Vietnam a couple of years ago.  I could not recognize anything.  All that was left out there were the shelters that our planes used to park in at MAG16.  Of course, Marble Mountain was still there.  I was thrilled to walk up the mountain and see all the tunnels, etc. where the VC supposedly hid out.  I also visited the Cu Chi tunnels outside of Saigon on this trip and could not believe what it was like down in those tunnels.
Back to Marble Mountain, I am reminded of the time while escorted I went to a small village near Marble Mountain and a woman wanted to sell me her baby.  When I returned to Vietnam I also went to Hanoi.  The contrast to this day between what was North and South Vietnam is striking.  Though I had planned to visit Hoa Lo Prison (Hanoi Hilton) once I got there, I chose not to.
We didn't really get much in the way of security briefings.  When I travel overseas today, I always remember how I was surrounded by a group of young children on the streets of Saigon and had my pocket picked.  They only got $20 so I was lucky.  I was on my way out of country to R&R in Australia and had wisely left most of my money back at the office.
The Texas veteran I mentioned previously is a fond memory of the spirit and of our GIs and the pride they take in their service.
I like to think about the work we did in Danang with an orphanage, and how creative the children were at making up games with anything that was available.  In most cases the Vietnamese people were very nice.  I do remember visiting a market in Danang and several older women spitting at me.  The men who worked in our recreation centers were very helpful and creative, as well with ways of improvising when tools were not available.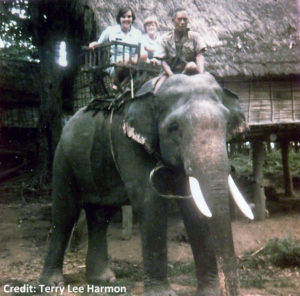 I always liked working with the Green Berets in Ban Me Thout.  One time they took us to a Cambodian Refugee camp.  Another time they took me and Penni (we always traveled in pairs) to visit a Montagnard home and the owner took us for a ride on his elephant.
There were disturbing stories related to us sometimes when we talked with the men who came to the recreation center.  Most disturbing were the stories of an airman who would tell me about taking up prisoners to be interrogated in a plane, holding a pistol to the prisoner's head while they interrogated and threatening him with being pushed out of the plane, and in some cases actually pushing them out of the back of the plane.  Never having thought about or being exposed to anything like this, I still to this day don't know what to make of it.  I could see this taking its toll on the airman, and this would probably fall under some degree of PTSD for him today.  Given the airman's intensity in relating this to me day after day, I believe there was truth to his story.  There were also the servicemen who kept re-upping (serving multiple tours) and couldn't seem to go home because their reality had changed so.
I suppose I should also relate some memorable experiences with the marine helicopter pilot I ended up marrying, but later divorcing.  I met him at a party at MAG 16.  He had been pulled back to fly a general after nine months of action, which eventually earned him two DFCs and a silver star.  As a pilot for the general, he had a helicopter assigned to him so he was able to fly across the street from MAG 16 to the Navy barracks where I lived.  We would go to the officers club and have dinner and dance and hang out and then he would fly back across the street.  One evening he asked me if I wanted to go for a ride.  So I got in the helicopter and we flew around the area and saw Danang from the air at night.  I think he pushed his luck when he buzzed the MAG16 airfield.  After he dropped me off, and flew back to MAG 16, they were waiting for him.  He ended up getting a reprimand and being assigned to work with the MPs the last couple months of his tour.  One night while we were talking on the phone, there was an explosion and I heard scrambling and then the phone went dead.  I did not know what had happened.  The next day he called me from the hospital and explained that a marine on drugs had thrown a grenade into the office where he had been sitting with several others.  He had shrapnel wounds, but would be ok.  They ended up medevacing him out of the country.  The marine who threw the grenade ended up in prison back in the US.
PLEASE NOTE: THERE ARE 32 PREVIOUS EDITIONS OF THE DONUT DOLLIE DETAIL THAT CAN BE SEEN HERE, JUST SCROLL DOWN TO READ EACH (AT THE BOTTOM, YOU'LL SEE A LINK TO GO TO THE NEXT PAGE OF DONUT DOLLIE DETAIL FEATURES)