In our 44th edition of the Donut Dollie Detail, Jewell tells how she served with the Red Cross from 1958 – 1965, how she would provide donuts to the men in Korea and that during her service in Korea, she and her Donut Dollie sisters wore military uniforms.
Please share the Donut Dollie Detail with family, friends and veterans you may know, and make sure to like/follow us on Facebook to learn when the next edition is posted.
Please meet Red Cross Donut Dollie Jewell Griggs Miller…
What prompted you to join the SRAO (Supplemental Recreation Activities Overseas) program and want to go to Korea?
The desire to travel and work in a foreign country.
When and where were you stationed in Korea? Did you go by a nickname?
I served with the Red Cross from 1958 – 1965, beginning at the Chelsea Naval Hospital in 1958 and then I joined the SRAO program to serve with the 1st Cav. Division in Mun-Sun-Ni, Korea from 1959 – 60. I continued my service at Walter Reed Hospital in 1961, then I moved to France from 1961 – 63. I then transferred to Andrews Air Force Base Hospital in 1963, and back again to France from 1963 – 65.
I did not have a nickname in Korea.
What was a routine day like in Korea?
We would pick up several trays of freshly baked donuts from the bakers around 7AM. There would be an hours drive in converted military ambulances to our first outpost of soldiers where we would spend 45 minutes to an hour with them. We delivered books, stationary, games, donuts, etc. to each group and then proceeded to the next stop. We would be on the road from 8AM-4PM meeting and greeting the men each week. They looked forward to seeing us and chatting each week.
Did you ever have any "close calls" either on base or in any vehicles?
No
Were you ever injured while in Korea?
No
What was it like to visit the soldiers in the hospitals?
There were no hospitals in Korea for US soldiers in rural areas.
How was the transition returning home to the United States?
When I returned home from Korea I was stationed at Walter Reed Army Hospital until my next assignment in France with the American Red Cross.
What would you like people to remember and understand most about the women who served?
The women who served with me in Korea were young and usually just out of college. I was probably the first black woman in the Korea serving with the American Red Cross.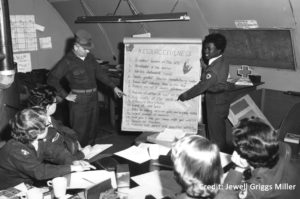 How do you feel Veterans think of your time having served with them? Have any Veterans expressed their feelings to you directly?
I think they were happy to see American women in Korea.
————————————————————————————————–
What are your fondest or most interesting memories of your time serving in Korea?
It was a real honor to be in Korea helping the thousands of American soldiers adjust to being in Korea, so far from home.
Interestingly, during my stay in Korea the "Donut Dollies" wore military uniforms much differently than what appears to have been worn in Vietnam (in 1959 in Korea the US was theoretically still at war).
PLEASE NOTE: THERE ARE 43 PREVIOUS EDITIONS OF THE DONUT DOLLIE DETAIL THAT CAN BE SEEN HERE, JUST SCROLL DOWN TO READ EACH (AT THE BOTTOM, YOU'LL SEE A LINK TO GO TO THE NEXT PAGE OF DONUT DOLLIE DETAIL FEATURES)